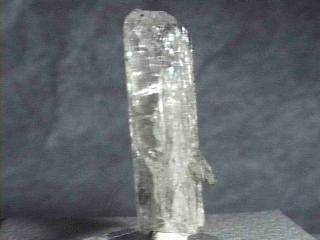 DANBURITE
Specimen dan-8
$ 20.00
Dims: 2-1/4" x 3/4" x 1/2"
Wt: 19.6 g
Charcas, San Luis Potosi, Mexico
This particular Danburite crystal has an extraordinary amount of internal fracturing; most of the crystal's shaft is translucent at best and has a greenish gray caste because of this. The termination, however, has few fractures, and is thus transparent. There still are a few of them, however, and one has caused an irregularity in the formation of the termination's basal edge. There is a small dogtooth Calcite erupting from one of the prism faces about 1 inch from the base-- it has the same green-gray coloration as the Danburite it protrudes from. There are a few conchoidal "dings" on one of the acute prism edges near the termination, but the rest of the crystal, including the termination itself, shows no external damage.