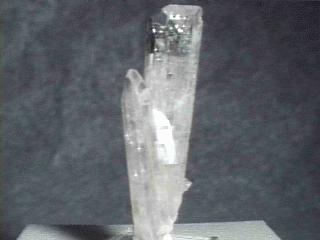 DANBURITE
Specimen dan-5
$ 60.00
Dims: 2-13/16" x 13/16" x 11/16"
Wt: 29.7 g
Charcas, San Luis Potosi, Mexico
One of our larger specimens, this Danburite cluster is dominated by one particular crystal that is over 2-1/2" long. It is transparent and has much internal fracturing that seems to be responsible for two small spots of damage along the two opposing acute edges of the prism. Other than those spots, the crystal is relatively free of damage, as are the two smaller crystals that are growing along its prism. One of the smaller crystals is about two-thirds the length of the largest and the other is half its length. Like their larger counterpart, the two smaller crystals are transparent but show much internal fracturing. All three have clean terminations that are free of damage and have a calcite crust coating their base surfaces.