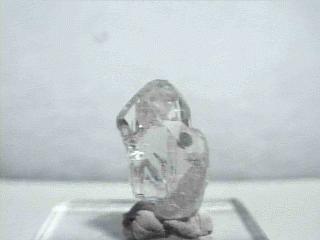 DANBURITE
Specimen dan-7
$ 24.00
Dims: 13/16" x 7/16" x 3/8"
Wt: 2.5 g
Charcas, San Luis Potosi, Mexico
Though one of the tiniest Danburites in our selection, this is simply the most amazing. It has substantial damage to one of the acute prism edges, but all other faces and edges are clean. It is transparent with several internal fractures and flaws and a rather warped but definitely crystallographic form. The internal fractures and unusual form may be caused by the inclusion of spheroids of cookeite, a lithium and aluminum silicate hydroxide that is a member of the Chlorite group. These spheroids measure from 1/16" to 1 mm in diameter, and there are 5 or 6 of them in the crystal, including two that have hemispheroidal forms. This was the only specimen of this that we could find in which the Danburite crystal was not incomplete or heavily damaged.