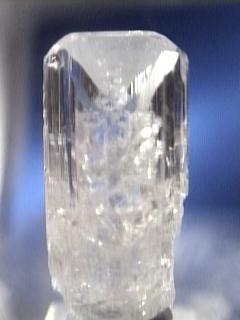 DANBURITE
Specimen dan-3
$ 35.00
Dims: 1-7/16" x 11/16" x 1/2"
Wt: 9.7 g
Charcas, San Luis Potosi, Mexico
Although this crystal has a considerable amount of visible damage to its edges, I like it best out of our selection. About 1/3 of the material is free of internal fractures, and very clear. The termination has one tertiary face chipped off, leaving a conchoidal "scab," but the rest of the orthorombic prism is flawless and very symmetrical. I am most pleased with the secondary terminations at the tip of the crystal, reminding me of the business-end of a chisel.