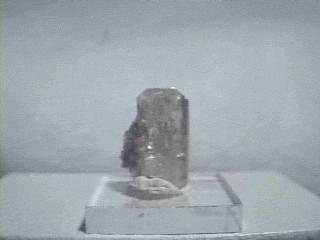 DANBURITE
Specimen dan-6
$ 18.00
Dims: 7/8" x 1/2" x 5/8"
Wt: 4.8 g
Charcas, San Luis Potosi, Mexico
Though this little Danburite crystal has excellent clarity, good form, and no damage, it has something else that makes it very special. About one-third of the surface area of its prism is covered with tiny amethyst crystals! These crystals range in size from about 1/8" to less than 1mm and spread from the Danburite's base to just below the basal edge of its wedge-shaped termination. Their color is a pale violet at its deepest, but all of the crystals have good hexagonal prismatic form and one large one near the Danburite's termination is double-terminated. It is a small but exceptional specimen.