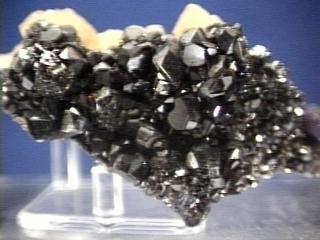 SPHALERITE
Specimen sph-5
$ 39.00
Dims: 4" x 2-1/8" x 1-7/8"
Wt: 8.8oz
Hardin County, Illinois, U.S.A.
These exceptional-quality Sphalerite crystals are very cleanly-faced, clear, and attain up to a 1/2-inch diameter. They are consistent in shape, each with a dodecahedral formation that is unusual for Sphalerite. Joining in the fun are some rather rounded but still distinctly crystalline Calcites and two small clusters of heavily-cleaved Fluorite crystal segments. This is a favorite specimen of mine- the Sphalerites are some of the best I've seen from this locality.