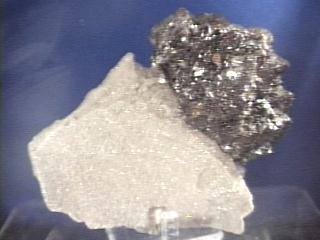 SPHALERITE
Specimen sph-1
$ 55.00
Dims: 5-1/2" x 4-1/2" x 1-1/2"
Wt: 1lb., 4 oz
Elmwood Mine, Tennessee, U.S.A.
One of our selection of Elmwood Mine Fluorites, this specimen features a cluster about 1-1/2 inches by 3-1/2 inches by 2-1/4 inches, resting on a base of Dolomitic limestone. Its crystals are dark, clean, and clear, as with most Elmwood pieces, and individual crystals reach up to 1/2 inch high and 1/2 inch long. There is a small amount of damage to a few of the terminations. A partial Fluorite cube hides in the shelter of the large cluster.