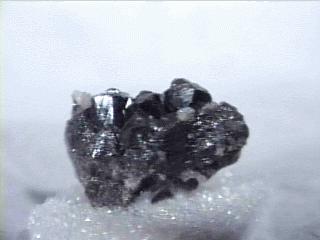 PYRARGYRITE
Specimen pyg-2
$ 60.00
Dims: 1-1/8" x 3/4" x 1/2"
Wt: 18.3 g. w/ specimen box
Veta Grande, Zacatecas, Mexico
There are 5 discernable crystals on this thumbnail specimen, on a matrix that seems to be composed of massive Pyrargyrite interspersed with veins of calcite. Of these 5 crystals, only one is nearly complete, with only a small amount of material missing from a spot near its base. It has a six-sided columnar crystal form with 3 primary and 3 secondary faces and a basal pinacoid termination that has a small oddity; at the center of the termination a tiny, shallow 3-sided pyramid is protruding. The crystals all have a gray color with a submetallic luster, and points of deep red reflected color are noticeable at certain angles. The specimen is affixed inside a plastic specimen box.