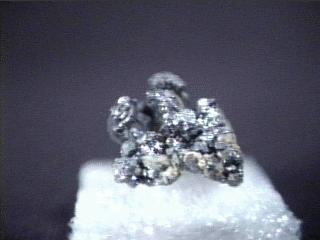 PYRARGYRITE
Specimen pyg-1
$ 50.00
Dims: 3/4" x 7/8" x 5/8"
Wt: 15.9 g. w/ specimen box
Veta Grande, Zacatecas, Mexico
At least a dozen tiny crystals infest this Mexican thumbnail specimen. They have a gray color, a dull metallic luster, and occasionally show a glint of deep red, which is common for this material. One crystal on the specimen achieves a length of over 1/4 inch in length, and all the others are smaller. Crystal form is definite, but classic shapes associated with the trigonal system are indeterminate. Actually, the crystals remind me most of those of many Peruvian bournonites that I've seen! The specimen has no host rock, but there seems to be a thin calcite crust that coats the crystals at their bases. It is affixed to a plastic specimen box with a hinged lid. It's an attractive little specimen!