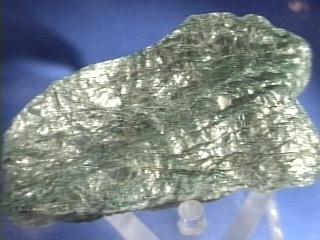 FUCHSITE
Specimen fuc-2
$ 10.00
Dims: 3-1/2" x 1-3/4" x 1"
Wt: 4.5 oz
Minas Gerais, Brazil
If you're looking for a largish "book" of green, pearly-looking Fuchsite mica that is somewhat warped with no hexagonal form, you've come to the right place! This specimen is composed entirely of the chromium-tinted mineral. It's a good specimen if you don't have any, or for a younger collector who really likes mica and its forms.