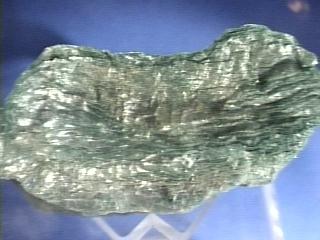 FUCHSITE
Specimen fuc-1
$ 10.00
Dims: 4" x 1-3/4" x 2"
Wt: 5.3 oz
Minas Gerais, Brazil
This specimen is likely composed of pure Fuchsite; it has all of the properties of mica, with the exception of its deep, chromium-induced green color. It is quite pretty, though not having any definite crystal form. The "book" is quite warped, and small portions have been folded a bit. However, on one area of the piece there seems to be some aventurine quartz hiding among the Fuchsite folds- the stuff scratched the steel casing of Steve's loupe! Funky!