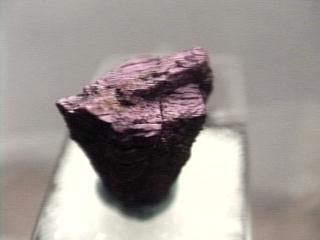 PURPURITE
Specimen pur-3
$ 27.00
Dims: 3/4" x 3/4" x 1/2"
Wt: 7 g
Kola Peninsula, Russia
This rare specimen does not seem to show any evidence of crystal form. However, close examination shows a smattering of a dark solid in several spots on the mineral. I can only guess that it might be Manganite. I'm not sure, but I can't think of any other alternative. Anyway, it's a rare mineral, and would look great in a curio next to, say, a thumbnail specimen of Autunite for color contrast.