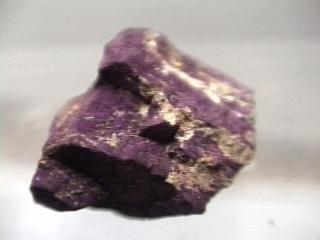 PURPURITE
Specimen pur-1
$ 60.00
Dims: 2" x 1-1/2" x 1"
Wt: 40 g
Kola Peninsula, Russia
I'd never seen Purpurite before we got in this specimen; this is a strange mineral! Obviously, the manganese gives it its rich purple color, from which it got its name. Don't handle it too much, though, because the outer layer seems to break down into a dust that, like Limonite, tends to migrate to your hands and whatever they subsequently touch. I don't know what the material is that forms the veins running through the specimen, but there is a small amount of some type of Mica here and there on the piece. It's really quite a pretty specimen, and a rather rare one, too.