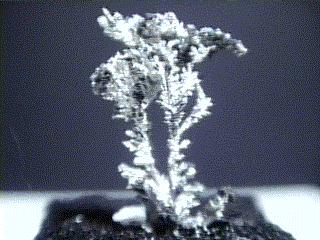 SILVER
Specimen siv-5
$ 192.00
Dims: 1-1/4" x 7/8" x 3/16"
Wt: 2.4 g. w/ foam base
White Pine Mine, Ontonagon Co., Michigan, U.S.A.
Delicate, complex dendritic tendrils are the form that the silver takes in this exceptional Keweenaw Peninsula Silver specimen. There are two main "branches" that each split into several offshoots. The silver is free from oxidation and has a wonderful white silvery color and metallic luster. A considerable amount of what appears to be shale or basalt is attached to one side of the specimen where the offshoots of each branch occur, making a dark backdrop that enables one to easily define the Silver's complex form. There are a few small portions of this matrix on the other side of the specimen, as well as a small amount of white, rhombohedral calcite near the specimen's base. The piece is glued to a foam base that is wedged into the bottom of a plastic specimen box. It's a joy for me to examine this up close!