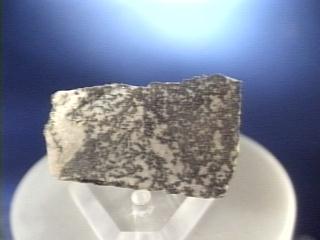 SILVER
Specimen siv-1
$ 22.50
Dims: 2" x 1-1/4" x 1/4"
Wt: 25 g
Cobalt, Ontario, Canada
One of our smaller Native Silver specimens, this piece was cut from a stone that was filled with dendritric Silver. One can see its branching effect in the stone and the metallic luster of the partially oxidized element. This is an excellent gift for that beginning collector or the budding lapidarist, for sometimes Silver in the host rock is shaped, polished, and used as a gemstone.