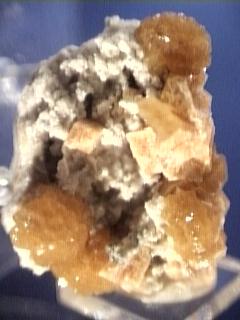 STELLERITE
Specimen ste-1
$ 75.00
Dims: 2" x 2" x 1-1/2"
Wt: 3.7 oz
Soholovskoje, Dzezkazgan, Kazakhstan
This rare specimen boasts spectacular ball-like clusters of Stellerite, a Zeolite mineral that I could not find in five of the most popular rock and mineral guides! The clusters are about 3/4 inch in diameter, a slightly-brown orange color, and have crystals showing a vitreous luster and excellent form. On one side of the specimen is a cluster of Chabazite crystals, another Zeolite mineral that looks like orange rhombohedrons. The other side confused me for a moment until I could examine the specimen under 15x magnification. Then I saw hundreds of transparent Stilbite crystals clustered together. I doubt that most people have even heard of Stellerite, much less seen a specimen of it, and here we have one available to you!