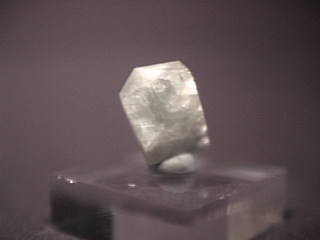 WARDITE
Specimen war-1
$ 75.00
Dims: 0.7" x 0.6" x 0.3"
Wt: 2.9 g
Rapid Creek, Yukon Territory, Canada
A very intriguing little thumbnail specimen, it consists of a single crystal of Wardite, named after mineralogist Fred Ward. This crystal has a pale green-blue color and a pearly-to-vitreous luster, and is translucent, showing small spots of transparence and many internal fractures. It occurs in a form resembling a warped octahedron. The only "flaws" that can be found concerning its form are some natural clefts in one of its basal edges, and a few tiny bits of broken crystal that protrude from one face. These broken bits seem to represent the only place where the crystal was attached to its place of origin, because the main crystal shows no visible damage. I really like this specimen because of its warped form, and the fact that I like the octahedral shape.